Warm Mushroom and Cavolo Nero Salad with Parmesan and Croutons
From Dame Charlotte Pike – a gorgeous warm Winter salad.
Serves 4
Ingredients
250g mixed mushrooms cleaned
100ml extra virgin olive oil
1/2 ciabatta loaf torn into chunks
2 handfuls of kale washed and torn. I like to use Cavolo Nero here.
2 cloves of garlic chopped
2 large shallots chopped
2 tablespoons sherry vinegar
Sea salt and pepper
A drizzle of runny honey or sweet apple syrup
Finely grated or shaved Parmigiano Reggiano, to serve
Method
Preheat your oven to 180°C / Gas Mark 4.
Slice the mushrooms and set aside.
Drizzle the olive oil over the bread, sprinkle with salt and roast in the preheated oven until golden and set aside.
Heat the remaining oil in a pan, throw in the mushrooms, garlic and shallots in 2 batches, and sauté for 2 minutes. Add the vinegar and season with salt and pepper before tipping in with the bread and kale. Add a little extra olive oil along with the honey. Serve warm, topped with the Parmesan and croutons, added at the last minute.
---
PREVIOUSLY . . .
Cheese Biscuits – Elisabeth Luard
Quantity Makes about 30 biscuits Time Preparation: 20 minutes Cooking: 20 minutes
8 oz/250g flour 8 oz/250g hard cheese (mature Cheddar preferably)
8 oz/250g cold butter ½ teaspoon salt
Preheat the oven to 350°F/180°C/Gas 4.
Sieve the flour with the salt into a bowl. Finely grate the cheese into the flour. Grate the butter through the larger holes into the flour. Mix all together with a knife, and press into a ball with the tips of your fingers. You may need a little water to make the dough stick – cheese and butter vary in their water content.
Roll the dough out very thinly on a floured board. Cut it into rounds. Lay the rounds on a baking tray (no need to butter it). Bake in the preheated oven for 20 minutes, until the biscuits are pale gold – don't let them overcook. Cool them on a rack and store them in an airtight tin.
Devilled Almonds – Elisabeth Luard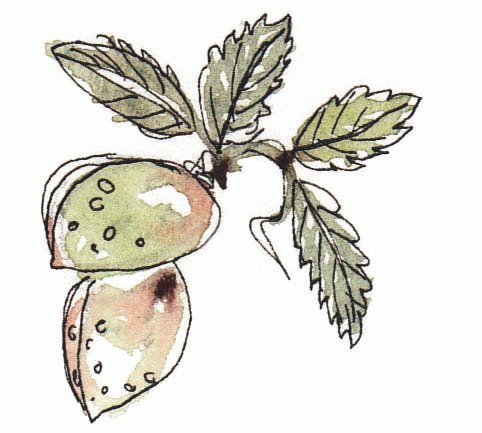 From 'Preserving, Pickling and Potting' published by Grub Street Books April 2020 details here
Almonds have stocked the Mediterranean larder since pre-historic times. The almond tree's beautiful white blossom is the first delight of spring.
Probably native to Asia Minor, almonds receive favourable mention in Genesis, feature in the inventories of the Palace of Knossos in Crete, were nibbled at the banquets of Babylon and appreciated by the court of Charlemagne. The Moors, declaring the fragrant snow-watered gardens of conquered Granada to be the anteroom to Paradise, planted almonds from the Jordan valley in its shaded alleys. The English, as becomes a non-conformist nation, like their almonds devilled.
Recipe
Quantity 1 lb/500g nuts Time Preparation: 15 minutes Cooking: 30-40 minutes
1 lb/500g almonds 1 teaspoon paprika
1 tablespoon nut or vegetable oil 1 teaspoon chilli
1 teaspoon ground coriander 1 teaspoon salt
1 teaspoon ground cumin or celery seeds
Blanch the almonds by pouring boiling water over them in a bowl. As the skins loosen, slip out the sweet white kernels. Dry them in a clean cloth.
Warm the oil in a baking tray and put in the blanched almonds. Roast the nuts gently at 250°F/130°C/Gas 1 for 30-40 minutes until they are well toasted and squeaky when you bite into them. Stir in the ground coriander and let its aroma develop for a moment before adding the cumin (or celery seeds), paprika, chilli and salt.
Let them cool and store them in airtight jars or a tin. Cashew nuts, pecans, peanuts and roasted chickpeas are also good prepared this way.
SUGGESTIONS
• Roughly chop the nuts and sprinkle them on a soup. Particularly delicious with a cold gazpacho or a hot vegetable soup.
• Serve devilled almonds after dinner instead of chocolates, to clear the palate and aid digestion. • Dress new potatoes with chopped devilled almonds. They are good on brussels sprouts and carrots too.